Yandere Simulator is still in development, but you can download a sandbox build that is intended for testing and debugging. Before playing the debug build, please keep the following information in mind:
There is no way to win the game yet.
Some features are currently missing or unfinished.
The debug build uses placeholder graphics and animations.
The final game will have much better graphics and animations.
Yandere Simulator does not contain pornographic content, but it is intended to be played by adults. This game is not appropriate for children.
Additional information:
As of now, Yandere Simulator is a PC-only game. I cannot provide you with a Mac, Linux, or Android build of the game right now. I'm sorry.
The game is updated frequently, and some updates may contain huge bugs. The game is not guaranteed to run smoothly.
This debug sandbox build is not representative of the final game. This build only exists for testing purposes.
Please do not report any bugs unless you've read all of the information on the Bug Reporting page.
If you want a smooth, bug-free experience, please wait until the game has been completed.
Yandere Simulator has a launcher that will allow you to easily download new updates for the game! The launcher is very simple to use; no tutorial should be necessary! Click below to download the launcher:
If the launcher is not working for some reason, you can download the game using the following link:
Or, any of the links listed here:
If you see anything like this, your download was corrupted; you need to re-download the game.
Gamepad Controls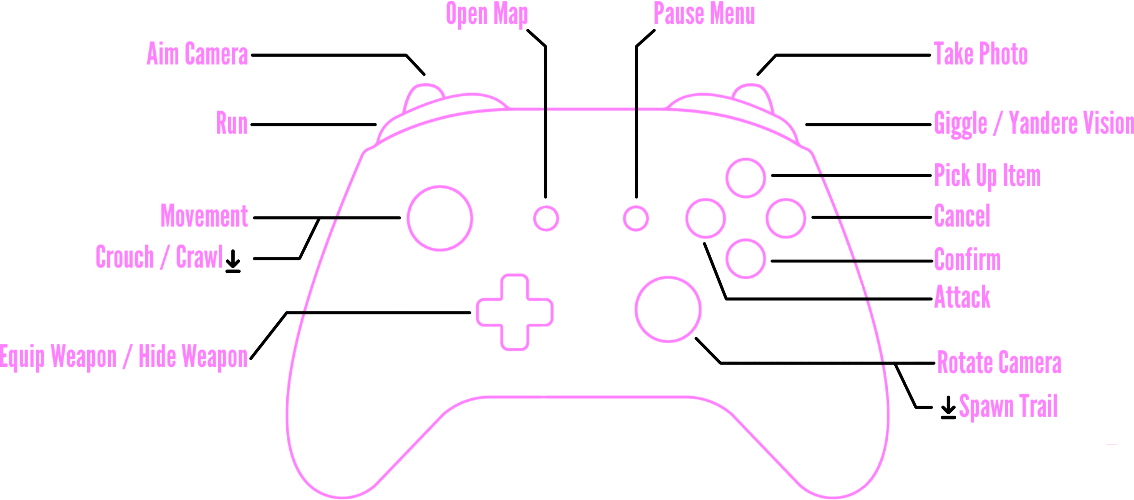 Keyboard Controls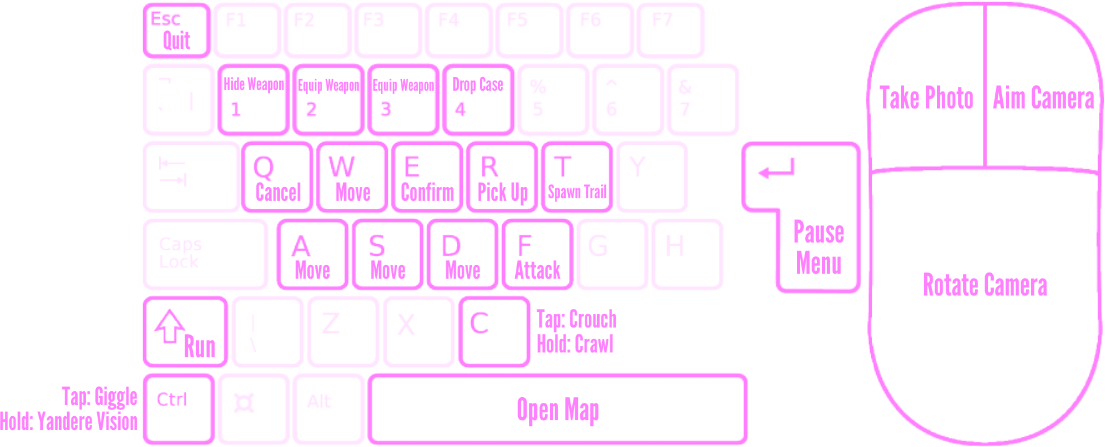 Debug Controls
Press the "\" key to open a debug menu.
Press '+' to speed up time and '-' to slow down time. (This is a debug feature, and will not be in the final game.)
Use the Scroll wheel to zoom in on Yandere-chan's face. (May not exist in final game.)
'N' key to increase music volume, 'B' key to decrease music volume.
'M' key to mute the music.
Take out your camera and press the left 'Alt' key to activate "Cinematic Camera Mode". Press that key again to disable the cinematic camera.
'~' key to reset the level.
Customization Options
'H' key to cycle through hairstyles.
'P' key to cycle through eyewear.
'O' key to cycle through silly accessories.
Use the < and > keys to decrease or increase the protagonist's bust size.